bios of the stars of hencam!
meet the girls!
posted by admin, 17 February 2006 21:59
Eva: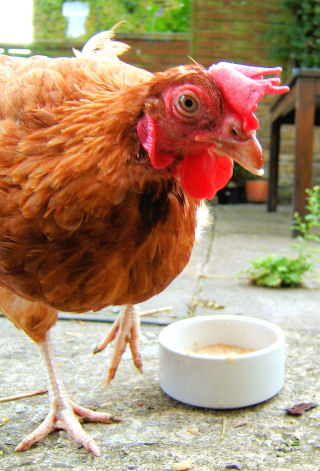 Eva ended up with us quite by accident in July 2006! One morning Lois, one of Scarlet's friends phoned us to say there was a hen in her garden that had escaped from the "chicken factory" near where she lived. It was a meat processing factory - making dog-food or soup from thousands of "spent" battery hens every week. She had phoned the RSPCA but they weren't interested in coming out "just for a chicken" (they just lost several previous supporters!) She rang again saying that it was distressed and making the danger-call, so myself and Scarlet drove over to see if we could help.

We eventually caught the poor little thing, it looked quite young (battery hens are considered spent, or exhausted, after only one year) and was missing most of it's feathers on it's underside. It literally screamed when I picked it up - an awful noise that I had never heard hens make before, but we couldn't leave it where it would end up as a meal for a fox.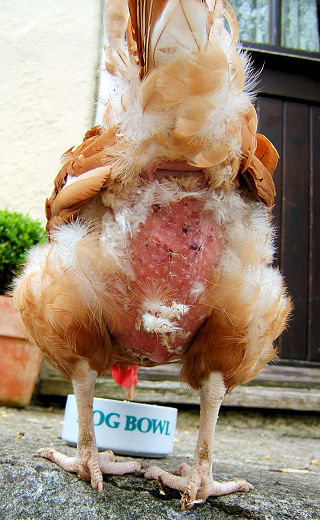 We made a small coop next to the main coop from a bit of run borrowed off the rabbits and guinnea pig, and let Eva (for that was now her name - after Ever Ready, as she was a battery hen...!) - she was a bit freaked out by the experience but seemed to calm down a bit. The next day, she had laid a perfect egg, her first ever free-range egg.

Things took a turn for the worse when she started pacing up and down trying to get into the main coop, as she was hurting herself on the mesh. We took the drastic step of splitting the main coop in two with mesh, and letting Eva in one side, with the other hens on the other. We couldn't just introduce them to her as she was too small and weak (and featherless!) to defend herself from the others - the "pecking order" would need to be established, and unfortunately Eva had no knowledge of this natural phenomena.

Whilst we were on a cycle ride around Holland and Amsterdam in aid of a men's cancer charity, Helen had her hands full keeping the hens seperated (they had worked out if they flung themselves at the mesh in a certain spot it would bend over!) When we returned, we realised that it was pretty futile trying to keep them apart, and as Eva had done well eating and looked healthier, we let them together.

At first Milly was awful to Eva at every opportunity, but Scarlet (bless her!) spent several DAYS in the coop watching over her, and even tamed the new little hen to such an extent that she could be picked up, stroked, and even came up to you - an amazing feat considering only days earlier she had shrieked if she saw you get anywhere near her. Scarlet was spurred on by some lovely and kind people who saw the effort she had put in and donated money to her for the time and effort and kindness she had shown. Which brings us to today, Eva is well and truly "one of the hencam flock" and a lovely and gentle little hen. Milly still picks on her now and again, but she is one of our favourites, and I hope you agree too.

Please don't buy battery-hen eggs - if nobody bought them they wouldn't force hens to suffer like they currently do - it might cost a few pence more but you are helping put a stop to countless hen's misery. sadly, Eva passed away just after Christmas 2006. We all miss her (especially Tilly and Scarlet), but we are happy to have shared happy times with the plucky little brown hen and she'll be remembered fondly.


Milly


Milly was the youngest hen (until we acquired Eva), and we got her when she was a tiny chick. She couldn't even make chicken noises and just made little "cheep" noises. She's also the tamest of our hens, and used to run up and stand on your feet until you'd pick her up. She is often seen asleep on Scarlet's lap - she will come over whilst Scarlet is reading and make herself comfy and fall asleep! She also comes when Scarlet calls her name - useful for when she gets into next doors garden!

She's a Light-Sussex hen which means she is a good all round bird (laying and for the table, though we'd never do that to her!)


Penny: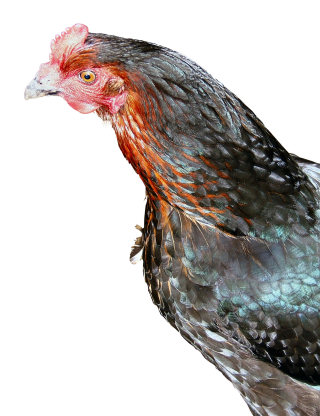 Penny is the nervous one of the "flock" (if you can call three birds a flock!) She is wary of humans and you are honoured if you actually get close enough to stroke her. She isn't timid with the other hens but if we ever have to catch her to see if she is ok, or give her medicine etc, you can be sure she will have us on a merry chase! She also is an expert at stamping on your hands when you have hold of her, which means she more often than not escapes so you have to start all over again!

Penny is a Black Sex Link, especially bred for their good egg-laying.


Tilly: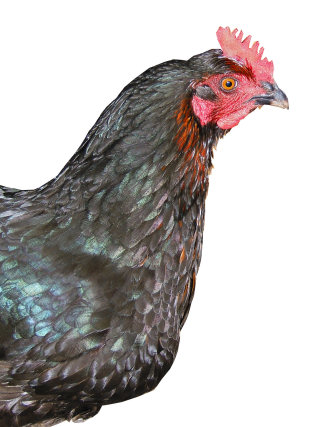 Tilly is the "boss" - she keeps the other two in check and isn't averse to applying the pecking order quite literally (though never to harm her friends). She's quite tame and doesn't mind being picked up or stroked, especially if you have a grape or other treat!

Like Penny, she is also a Black Sex Link.


Scarlet (with Milly):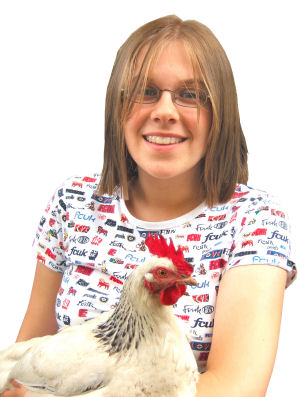 Although not technically a hen, Scarlet has been welcomed into the flock and is Milly's "mummy". The last time Milly escaped and we thought we had lost her, Scarlet shouted her name and Milly came flying into her arms, rather like a dog with wings..!

She is my 16 year old daughter (Scarlet, not Milly!) Scarlet is a proud Vegan.


* * *
A special mention should go to Libby, who we got at the same time as Penny and Tilly. Unfortunately, she died on the way to the vets after getting seriously ill over night with blood poisoning. She was buried in the garden in her favourite dust-bathing spot.