the day to day life in the hencam coop
Renee visits the vet
Posted by Neil, 22 March 2016, 10:03am
Poor Renee gave us a scare last night - she's still with us though :)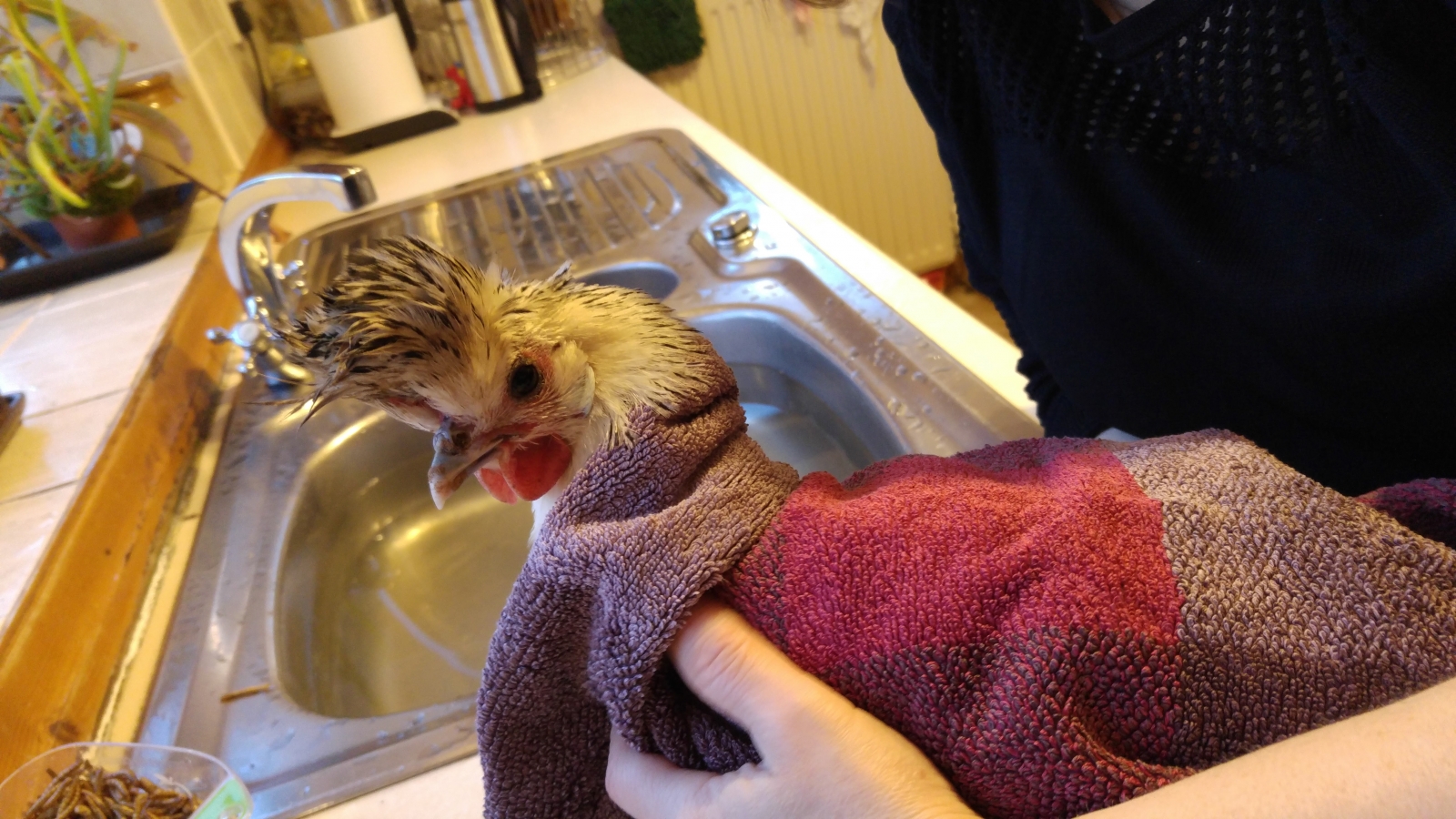 At about 4pm yesterday I noticed someone had laid an egg in the dust-bathing pit in the run - this is pretty unusual as hens like to lay their eggs in a nice dark nest so it usually means something like a bad mite infestation (which makes the hens not want to visit the nest box and get bitten)...
But the other hens had laid in the nest box - I rang Helen and asked her to go collect the egg as I didn't want the other hens to peck and eat the egg (this can lead to egg-eating when they realise they are good to eat!)
Helen told me that the egg had a bit of blood on the shell - I wasn't too worried as they are only just starting to lay and things might be a bit of a squeeze whilst they get the hang of it - if there's a lot of blood, or every time an egg is laid it can be a problem though.
I rewound the hencam (what a great feature!) and found out the culprit was... Renee. I think it was only her second egg, so it didn't seem too much of a worry.
However when I went to check on them later that night, I saw Renee roosting and her bottom was a bit messy with a bit of blood and discharge (sorry, readers!) and she strained and a weird white thing appeared, only to disappear shortly after - I realised it was another egg?!
So we sprung into action, ran her a warm bath, and soaked her in it for 15 minutes - she was a bit flighty at first (she is the least human-friendly of our hens typically), but I think eventually she liked it and actually sat with Helen holding her in a towel whilst she blow-dried her with a hairdryer (in the pic above).
I phoned the vet and got an appointment in the nest 25 minutes (honestly, why can't GP's be like this?!) and half an hour later we were explaining things to the vet. She told us as she was a bit flighty she'd take Renee in the back so another nurse could help hold her whilst she examined her, so me and Helen waited in the waiting room for 10 minutes.
She came back holding another bloody egg! She said "I'd like to take credit for this, but in the time it took me to carry her from the examination room to the back room, out it popped on it's own!". She said it might have been the bath that helped it along, or just been taken out into unfamiliar surroundings.
She also said the egg wasn't fully formed - it had a thin papery shell that wasn't shiny which would have made it very hard to pass through - she thought it was because Renee wasn't getting enough calcium. I explained she really did as they had good quality layer's pellets, two different tubs containing different sizes of grit and calcium / oyster shell, and vits + spice + calcium in their food as a supplement too.
I told her that there had been a fox scare a couple of days ago which I know can disrupt egg production, and she said "ahhh! that probably explains it!" - she had also felt for another egg and there wasn't any others at the moment so hopefully it she will get back to normal but for now we'll be keeping a close eye on Renee.
At the moment she's sat on the new high branches (they are a good addition to the coop aren't they?) and preening herself so hopefully she feels ok - I'm hoping she waits a few days before laying another egg just to give her a bit of time to recover...
So, the upshot was, Renee laid the most expensive egg in the world (it cost me over £26!)...