the latest happenings in the coop
Latest text alerts sent (
click here to follow hencam at http://twitter.com
):
Amazing how a silly idea can take off...
posted by admin, 8 March 2006 11:23am
Here are the clips from the BBC Look North news programmes!

The first one is from the lunch-time edition, there was a longer piece on the evening show too!

This morning the hens (and Scarlet and me!) were filmed for a piece which will hopefully be on tonight's BBC Look North programme! I am shocked/bemused/amazed that a silly idea like this can snowball and receive so much attention, but I'm over the moon of course!

Here's a photo of the "shoot".... (Ben the reporter was very nice, I just hope we don't look like complete lunatics...!)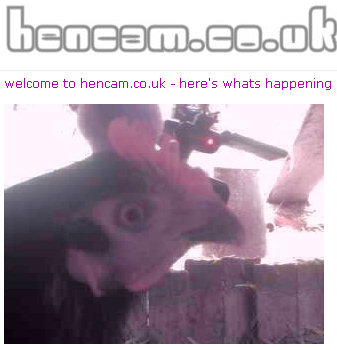 Milly laid an egg too, she's either showing off for the camera or Tilly and Penny are *really* lazy! (year totals: eggs: 9, laid by Milly: 9, laid by lazy good for nothing Tilly and Penny: 0).