the latest happenings in the coop
Latest text alerts sent (
click here to follow hencam at http://twitter.com
):
SEPRA 'net spat shows no sign of a resolution - more bad press for Scottish miseries...
posted by admin, 25 March 2006 10:39am
Don't forget, the Look North TV hencam spot can be viewed here too!

This article appears on Page 13 of today's T&A (click for bigger)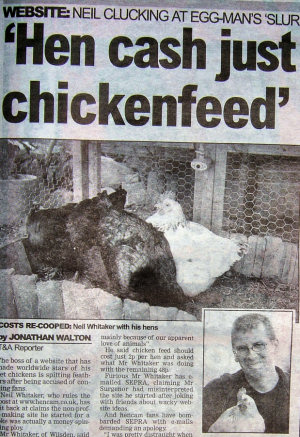 I would also like to answer Mr Grosvenor's comment in the T&A re: "My criticism was that it does not cost 50p to feed a hen for a day - even feeding grapes won't cost that" - actually there were SEVERAL issues you raised (which I answered in my original email) - you conveniently ignore the ones you cannot defend and cling to the cost of food issue. It's true that hens don't cost much to keep on a day to day basis (in fact it's chicken-feed!), but people know that - they are donating to provide treats and whatever else the hens might need. Do you really consider the public so stupid as to blindly donate to a website willy nilly? Credit them with some intelligence please!

It might be the Yorkshireman in me but I will be damned if I will sit here whilst your website prints completely unjust and potentially libellious drivel regarding what I spend on my hens to give them the best possible care - when you yourselves represent battery and cage hen farmers. My hens are NOT a means of income - they are much loved pets.

The T&A were lucky even getting a response from you, you've conveniently refused to answer mine or anyone elses emails on the subject.

The Telegraph & Argus (Bradford and it's surrounding areas most widely read newspaper) rang me the other day asking if they could do a follow up piece on hencam. They were the first newspaper to feature hencam and started the whole ball rolling, so how could I refuse? They were very interested in SEPRA's hatchet-job on my site - hopefully the article will show the SEPRA people that they cannot make unfounded allegations against an individual or website and then refuse to answer or apologise for their completely incorrect assumptions.

I sent Dennis Surgenor - the "journalist" who wrote the article on hencam a quick courtesy email to let him know what his good work had achieved thus far:


From: neil@hencam.co.uk
Reply-To: "neil@hencam.co.uk"
To: info@scottisheggs.co.uk
Date: 21-Mar-2006 22:35
Subject: FAO: Dennis Surgenor

Hello Dennis,

I am not sure if you have received my original email and as you are
the "journalist" who I believe wrote the drivel regarding my site I
thought you should have a chance to see the facts behind hencam and
also the negative publicity you have single-handedly created for
SEPRA.

The Telegraph & Argus - which is Bradford's (and it's surrounding
areas') most widely read newspaper - is covering the story regarding
your hatchet-job on my site and hopefully this will spark a second
wave of media interest - it was the T&A which first covered hencam and
from there it snowballed.

I honestly cannot understand why an individual or organisation such as
yourself/SEPRA would go out of it's way to try and destroy something
that was started with the sole purpose of lightening people's days and
bringing a bit of fun back to the Internet.

Hopefully the bad publicity you are now receiving will make you think
twice and enourage you to research your facts more fully in future.

Regards

Neil

Let's see if he has the decency and courtesy to answer this one...
In the meantime, please feel free to
contact him
and see if you can get a response. If you feel email just isn't getting the message across, you can phone on +44 (0)1324 715337, or fax: +44 (0)1324 874773. Let me know how you get on!
Egg update: no eggs, they upset the hens :(
The Pulse (West Yorkshire's main commercial radio station) saw the article and emailed me to arrange an interview which I've just got back from. It covered why I thought SEPRA had such a bee in it's bonnet and whether I was going to sue them!! Interestingly, the quote they used was from a question they asked after I'd said that the merchandise was just 'for a laugh' - "how much profit would you make if you sold 50 t-shirts?" and I replied it would be about £15 - they used this which made it sound like the shop had made more than it actually had, although I think their point was that it still wasn't a lot (the final quote from the presenter was "so you won't be buying that ferrari and retiring just yet then")! I tried to record it but the stupid audio recorder cocked up, however it was aired on the 7am, 8am, 9am and 10am news bulletins.