the latest happenings in the coop
Latest text alerts sent (
click here to follow hencam at http://twitter.com
):
We love the Telegraph & Argus!
posted by Neil, 15 April 2007, 9:22pm
This weekend's edition of the T and A (Saturday April 14th 2007) featured hencam and Lottie the Lamb in particular!

She was featured on the front-page strapline! (click for bigger)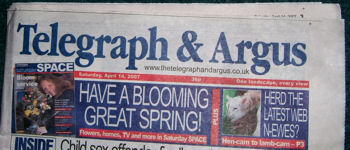 Nearly the whole of page 3 was devoted to her! (click for bigger)



Then when we were driving home tonight, we happened to pass Wilsden Post Office, and Lottie was even used to advertise the weekend edition of the paper!! (click for bigger)



Thanks to the T&A for the great coverage, it's much appreciated as always, and we hope it spread a bit of humour at the silly happenings here!