Blog
show the full archive of articles
Two Chickens In Need Of Good Home - 1 Girl, 1 Boy ~*VERY pretty!*~
posted by Scarlet, 24 November 2008, 8:01pm
Someone recently contacted hencam to ask if we could give two quickly-growing chicks a new home. We are always open to helping someone out with chicken problems, but as the person wasn't sure whether the chicks were male / female we asked if they would be able to send us photos first.

Well, unfortunately it would appear that at least one of the chicks is male. The white & black i suspect is a female, but as we are unsure of the ages we are not 100% sure. They are both very beautiful chicks who are exceptionally tame, and would make very loving chickens. See photos below if interested: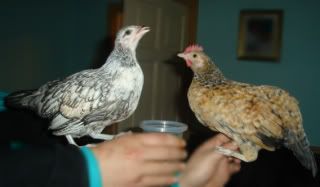 Here they are together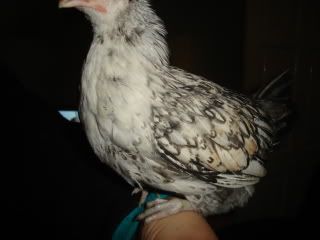 Close-up of female's feathering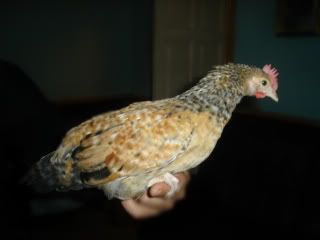 Beautiful boy

The chicks appear to be mixed breeds, but their guessed heritage is a Silver Sebright (bantam breed) for the female, which explains why she is so pretty ;) And possibly an Old English Game Bantam for the male...However, having said that i may be completely wrong and they might not be bantams at all :P

Anyway, they're pretty and friendly, what more do you need to know?! If anybody is interested, please either email me or my dad...

Thank you!
University here i come!
posted by Scarlet, 24 September 2008, 7:58pm
I am off to uni at Keele at the end of this month...woop woop!!

Very exciting :P
Adios Midget and Sunny
posted by Scarlet, 24 June 2008, 4:17pm
Well, Midget has decided it is time he was an adult and is trying to perfect the art of crowing. Hurray! (not)

For the past week he has started crowing at 8:00am in the morning, and unfortunately he sounds like a cat being strangled, or some other sort of yowling animal in pain.

Yesterday morning and this morning he has started crowing even earlier, at 4:00am when the sun rises. This is terrible, as it means i have to drag myself out of my pit and run downstairs to shut him up before he wakes the neighbours!

My parents are currently at Glastonbury, and I leave for a holiday in Spain (whoohoo!) before they return, so i hope Midget behaves himself for my Nana who is coming to look after him!

Anyway, Midget and Sunny are going to join their brother's when my parents get back, as Dan has decided he doesn't want them anymore. This means i won't be able to say goodbye as i am on holiday *snivel* but I know they are going to a good home!
Bye bye, chicks
posted by Scarlet, 5 June 2008, 4:09pm
Well, yesterday we said a very difficult goodbye to Pappy, Scotty and Daisy. The chicks were thirteen and a half weeks old and, although we had been planning to keep them until they were fifteen weeks old and take them home together, Pappy decided he was an adult and had began to fight and attack his brothers.

Scotty, unlike the other two boys, fought Pappy back which resulted in Pappy having some nasty cuts on his comb. He also attacked Midget and i wasn't happy about that at all - Midget is our youngest chick, and walks around looking perpetually confused. When his brother attacked him he stood with his head bowed looking very sorry for himself, and i had to run to his rescue!

So Pappy, Daisy and Scotty have gone to a beautiful new home. They are still living together but have ten times more room than they did here at hencam, and so it will be easy for them to keep out of each others way! They are sharing their new home with some ducks, goslings and are even being bought their own female hens in a week or two!

Lucky boys! As for Midget and Sunny, they will be spending a few more weeks here until Dan is ready to take them at the farm, unless he has a change of heart..
6 Weeks Old Today!
posted by Scarlet, 7 May 2008, 4:29pm
Yes, our mystery chicks are six weeks old today (well, technically Midget and Scotty won't be six weeks old until tomorrow, but whatever!). Although they have grown, they're nowhere near full size yet and are still 'cheeping.' Their eyes haven't turned orange yet, either, they're a weird green colour.

They've been spending more and more time outside whilst the weather's nice, although it isn't until they're 7 weeks old that they'll be able to produce their own body heat, so they keep coming for cuddles under my hoodie to keep warm!

This weekend they'll be going into their coop (hopefully, if it's finished!), which my dad has spent the last few weeks making. It will be 10ft long, 4ft wide and just under 4ft high. The chicks will spend the day & nights in there, and i'll let them out to free-range when i get back from school. We would let them free-range throughout the day, but last time Mr Fox came and ate our other three chicks :(

Then, by the time they are fully grown, they will be off on their way back to the farm!

They're lucky chicks though, broilers would be off to the slaughterhouse now. There's hardly any meat on these chicks, really highlights the difference between 'normal' chickens and broilers - i hate to think how fast they must grow. It's no wonder a broiler chick's heart has a high chance of giving out at any minute...
International Respect For Chickens Day ~ May 4th!
posted by Scarlet, 3 May 2008, 4:58pm
Tomorrow is International Respect For Chickens Day, which is all about "celebrating the dignity, beauty, and life of chickens and to protest against the bleakness of their lives in farming operations," says UPC (United Poultry Concerns) president Karen Davis.

Tomorrow we will be giving our chickens - both the big and little chucks! - a special treat. We'll make them a nice meal of lettuce, grapes, spaghetti & bread, and the big girls can have a cream cake too!

Have a great day everyone :)
Chick update :)
posted by Scarlet, 26 April 2008, 4:28pm
They're really growing quickly now! The chicks are four and a half weeks old, and as far we know we have four boys (Midget, Daisy (LOL!), Pappy and Scott) and one girl: my little Sunshine :)

If these chicks had been produced for the egg industry, four of them would be dead by now. If they were broilers they would be finding it difficult to walk because of their weight, and they would be killed in one and a half weeks...Lucky chicks!

Also MAY THE FOURTH is fast approaching, so get planning! And for anybody who still doesn't know what May 4th is, it's INTERNATIONAL RESPECT FOR CHICKENS DAY!!!
From chicks to chickens...
posted by Scarlet, 10 April 2008, 3:17pm
Well, the youngest two chicks were two weeks old yesterday, and sheesh they have grown so much! You can watch them at hencam.co.uk and see how big and fuzzy they have got!

I can't believe they are so big...!
Chicks!!
posted by Scarlet, 25th March 2008, 3:16pm
We have five fluffy chicks, yellow as can be.... :)
7 days...
posted by Scarlet, 18 March 2008, 8:09am
7 days to go until we might possible have some chicks...cross your fingers!
Chicks again...?
posted by Scarlet, 10 March 2008, 9:40pm
My dad recently brought home thirteen RIR eggs to hatch. They're fertile and in an incubator, and i've been turning them three times a day...i didn't particularly want more chicks, not after what happened to Scrambled, Webster and Luca - but when did i ever have a say in the animals?

Also, it's that time of year again: International Respect For Chickens Day!! I think the actual date is May 4th so get planning, you can read more about it on UPC's website (see links page)

Sorry if i sound a bit downbeat...I was searching for some photos of Eva to enter a UPC competition, but Scrapblog has deleted my account, and with it all my photos. So i've lost all my photos of Eva, which is quite upsetting...i should have saved them somewhere, but i didn't :-(

Oh well...